Cave And Waterfall Of Seythenex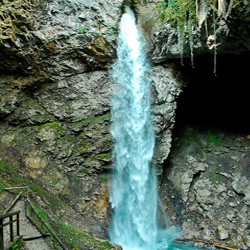 Two of the greatest tourist attractions in Pays de Faverges are the Cave and Waterfall of Seythenex. These two wonders of nature are located in the Faverges-Seythenex commune and attract a large number of tourists. The Waterfall of Seythenex is 45 meters high and is formed on the waters of St. Ruph.
In order to facilitate tourists' access to the waterfall, wooden staircases and footbridges have been constructed. The Cave of Seythenex is the only cave open to the public in Haute Savoie. The cave is about 1 km deeep, but only 250 meters are open to the public. If you want to discover the breathtaking underground landscape, a 40-minute guided tour is available.
The Waterfall and Cave of Seythenex are two great attractions in Pays de Faverges region that you absolutely cannot miss.